Band Member Information
---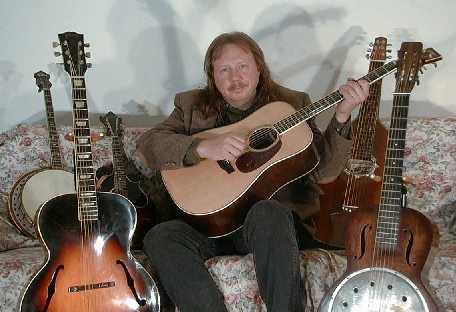 Dean Shumaker

Dean has been playing music for most of his life, performing and recording in a wide variety of settings spanning the stylistic spectrum. In addition to playing with pickin@bluegrass, he performs with 'The Carpal Tunnel String Band', the 'Swing Shifters' and Pittsburgh musician/songwriter Tom Cunningham. He recorded with contemporary Christian artist Chuck Schwandt, who had 3 tunes off the CD featured as selection of the week on MP3.com. He also serves as studio musician and in-house producer for Studiophonix Ltd.

In the past year he has appeared with gold record recipients Danny & The Juniors and Green Linnet Records' artist Debby McClatchey. Dean and Tom Cunningham performed on Acoustic Café for Herald Standard Televison Productions on Helicon Cable TV in Uniontown, PA.

Dean plays acoustic and electric guitar, mandolin, lap steel, tenor banjo, clawhammer banjo and most anything that has strings and (usually) frets. He has been seen from time to time with a fiddle but was warned by the authorities to keep it locked up!

In addition to his musical talents, Dean also does instrument repair work. Having studied under several master luthiers and many years of personal experience, Dean can provide quality repair work and refretting.

---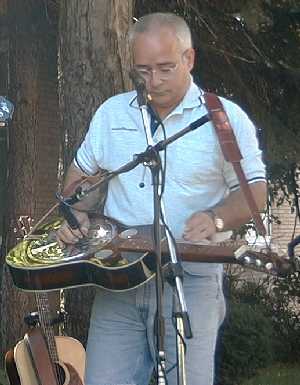 John Larimer

John started out playing electric guitar in high school with the then famous group 'Rebirth'. Then in the late 70's (while stationed at Offutt Air Force Base, Nebraska) he picked up on the 5-string banjo."I soon realized that there were too many 'faster guns'. I really loved the sound of the dobro and found a used one in the early 80's. There weren't too many people to learn from at that time and very little instructional material was available. There also wasn't much competition so it was easy to join about any jam. I bumbled around a bit until I spent an afternoon with Ron Mesing (local dobro wizard) at a festival. He lit the fire for me. Then, after a while, I seemed to get bored with bluegrass and set it aside for about 10 years until I saw 'Tim O'Brien and the O'Boys' at Johnstown Folk Fest in 1995. I caught fire on bluegrass again and have not yet quit burnin'."

"I play a 1976 D60s (?) Dobro I found used in 1981. I had Paul Beard install a Quarterman cone in it during 1999 and he replaced the nut and bridge. He does nice work. I would love to have one of his guitars. Besides listening to bluegrass, rock, blues, folk and other music, I enjoy playing guitar in a classic rock band (Whitehorse) on the weekends. We play mainly in the Somerset, PA area and occasionally in Johnstown, PA. By day through the week I work as a Civil Engineer in the Sanitary Department of EADS (formerly Neilan Engineers). I enjoy gardening and lawn work."

"I also want to add that I can credit my father with passing on my love for the music. Thanks to him I got to hear Bill Monroe and Flatt and Scruggs back when I didn't think I really liked that stuff compared to the Beatles!"

---
Kevin Custer

Kevin began his musical career at age 10 by building and playing a 'washtub' bass and performing at festivals like Milo Weavers Farm with 'Bob Mock & The Bedford County Grass'. About six months later a real upright bass became available and the boy's dad decided to buy it as Kevins interest in bluegrass seemed sincere enough. The bass was an early 1900's Czech model and was in fair condition. "Some people claimed it came over on the Mayflower, I say it was the Mayflower. I attribute my early Bass skills to help from those like Bob Thompson, Brad Foust, and of course Tim and Dad. I was inspired to play the bass after hearing a jam session at home watching and listening to George Davis, a local musician, play the electric bass." Bass players were few and far between and Kevin got plenty of practice learning songs 'on the fly' as he was often asked to perform on stage at the local festivals like Forest Circle, sometimes with several bands in a row.

When he wasn't playing bass, he was likely behind the sound board as he enjoyed making people sound good. "My bluegrass playing continued to expand when I learned to play rhythm guitar from Dad. Then when I was about 17, a neighbor asked if I would run sound for his local rock & roll band. I have always liked rock music and probably enjoy listening to it as much as bluegrass. From this point on my bluegrass playing sessions were few and far between as I really liked doing sound. I continued to run sound for several local country and rock bands like 'The Ranglers', 'Nashville Network', 'Down To The Wire', and even helped make a CD for 'Consider This' where I helped write some songs and even did background vocals on one tune. Then Tim moved to Florida and it seemed as though I had no desire to play bluegrass, or even run sound."

From the late 80's until recently, Kevin didn't do anything with music except listen to it, mainly classic rock from performers like Stevie Ray Vaughan, Jimmie Hendrix and Ian Anderson of Jethro Tull. "Tim and Brenda returned from living in Florida and one afternoon he said he was having a get-together with some other local musicians and wanted to know if I would play again.... I said... well... its been along time, but I'll give it a whirl." Tim and Kevin played several afternoons and before long he got back the feel of the old bass. "I never was a real fancy player, Dad never liked all that hoopla, but I seem to hold my own. I play a '40's model solid top and back 3/4 upright likely made in Germany."

Kevin is employed by WestPA.net a broadband and cable service provider. He also holds an Advanced Class amateur radio license and provides the local Counties with emergency communications via several 'Ham Radio' repeaters. He was also involved in NASCAR racing on the local level with Bruening Motorsports.

"I can honestly say I have followed in my fathers footsteps as I seem to be doing everything he did. I only hope I can do it half as well as he!".

---
Tim Custer

Tim has been playing music since age 13 but it has been a part of his life since birth. "Ever since I can remember there was music surrounding our lives. My Dad played music and he always made sure that we were able to enjoy it. I remember as a kid growing up we would spend almost every weekend doing something that involved music. My first memories of enjoying that music was when Dad played at a place called the 'Wagon Shed' in Claysburg, PA. I would watch the people on stage and pretend I was playing too"!

Tim's first instrument was the drums. He took lessons at school and played in the school band. "We had a neighbor, Chris Huff, who was a fabulous drummer and I thought it would be neat to play like him. I soon found out I couldn't! It wasn't too long afterwards that I became interested in the guitar. I really liked the sound of Chet Atkins. Dad made arrangements for me to get a few lessons from a local picker. As much as I enjoyed that, I found I soon wanted to play Rock & Roll. Again, I made some feeble attempts to play like my buddies at school and failed miserably"!

Tim then joined several local country bands. "This is when I really became interested in music for the music, not because it was something my buddies were doing. It was also about this time that I became interested in the banjo. Dad had been playing banjo and was entering some contests where I would play rhythm guitar for him. One night after a contest I told him that I would like to enter the next year playing banjo. Again, Dad knew some great pickers who could help me out. He got me started on the basics, and then associated me with other good pickers. I really enjoyed bluegrass and found myself going to as many festivals and bluegrass events as possible while still playing guitar in various country bands in the area".

Tim and his wife Brenda moved to Florida in 1987 and it was at this time that the bluegrass bug bit hard. Tim joined 'The South Ocean String Band' and spent the next eleven years as the banjoist. "We played all the major festivals in Florida and Georgia. We recorded two CD's and did various radio and TV appearances. It was a great time musically because we met and played with so many great artists. We opened for Allison Krauss and Ricky Skaggs, as well as, 'The Seldom Scene' and others. We became the 'house band' for the late Mr. Chubby Wise and backed him at many of his Florida performances".

After Tim's Dad passed away, Tim and Brenda moved back home and he became actively involved in bluegrass again with the group 'pickin@bluegrass'. Tim is now playing with 'Mountain Therapy' a great bluegrass band from the Eastern Ohio/Western Pennsylvania area.

Tim is a two time Mid-Atlantic Banjo Champion, winning those championships 2001 & 2002. He has won the Maryland State Banjo Championship four times in years 2001, 2000, 1979 and 1977. He also held the Tri-State Banjo Champion titles in 1977, 1978, 1981, 1983 and 1985. He has performed on WWVA's Jamboree USA in Wheeling WV, and at The Opryland Hotel, The Station Inn and The Grand Ole Opry building all in Nashville TN. He has recorded several CD's and a sound track for a nationally televised Target Store commercial and has played most of the major bluegrass festivals from PA to FL. During his spare time he enjoys spending time with his wife Brenda, camping, hunting and his grandchildren.

Tim sings lead and harmony, plays the banjo, guitar, bass, some mandolin and even less fiddle! Tim's banjo of choice is his 1933 Gibson TB1 conversion to a 5-string. He recently chose to endorse OME Banjos and to represent their company with a signature model 'Bright Angel' flathead 5-string. He also enjoys picking his Rich & Taylor, his 1930 Gibson Granada, his Yates 'Ron Stewart' model, and his 1981 Gold Star G100FE.

Tim credits his father Ken 'Slab' Custer for much of his musical abilities. "He always supported whatever kind of music I was playing. When I became interested in the banjo he graciously switched from playing banjo to playing rhythm guitar for me, so I would have a chance to learn. He took time from his schedule to take me to see other banjo pickers and festivals, shows and contests. He loved the late Don Reno's style of banjo playing and would smile a lot when I played some of that stuff."

It was two Reno tunes that helped Tim win the 2001 & the 2000 Maryland State Banjo Championships...Maybe 'Slab' & Don are looking down and smiling right now!

---
This site and its contents are Copyright © 2000,2001,2002,2003,2004,2005,2006,2007,2008,2009,2010,2011,2012,2013 by:
Tim Custer and Kevin Custer All Rights Reserved.
The phrase pickin@bluegrasstm is a trademark of pickin@bluegrass
Last updated 2013 Custer Brothers Enterprise (CBE)