Tim Custer & OME Banjos

5-time Tri-State Banjo Champion, 4-time MD State Banjo Champion, and 2-time Mid-Atlantic Banjo Champion Tim Custer, has teamed up with OME Banjo Co. to endorse OME banjos at his performances & concerts!
At the 2002 IBMA World Of Bluegrass in Louisville, KY, Tim and OME founder & president, Charles Ogsbury formed a relationship to provide greater exposure of OME banjos to Western Pennsylvania and more importantly, the Northeastern US.
In October of 2003 at the IBMA World Of Bluegrass, Chuck presented Tim with his new custom banjo!


Tim is playing this custom built curly maple, hand engraved, gold and nickel chrome flathead five string. The banjo was built to Tim's specifications and will be available as a standard model to the public. Pictured with Tim is Chuck Ogsbury, founder & owner of OME Banjos.







"I'm real happy to have formed this relationship with OME and Mr. Ogsbury, they are first class folks." states Tim. "I have admired OME's quality and world class craftsmanship for several years." "With the advent of their 'megatone' tone ring system, these banjos reproduce that killer 'pre-war' sound everyone is looking for in a newer banjo and this one 'barks'."


Chuck & Tanya Ogsbury with Tim in the OME booth at the 2003 IBMA World Of Bluegrass trade show in Louisville, KY.









Tim joins an elite gallery of artists who pick OME instruments.
People like...Bela Fleck, Pete Wernick, Tony Furtado, Ira Gitlin, Bill Emerson, Bobby Thompson, Lynn Morris, Tim O'Brien, Carl Jackson, Roy Clark, Buck Trent, Ron Lynam, Janet Davis, Gram Parsons, Eric Weisberg & the late John Hartford.
Here are some photos of Tim's banjo..Click to enlarge. (others to be added soon)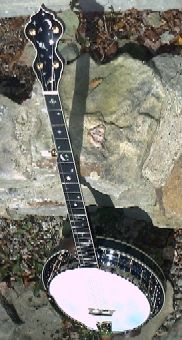 For more information on OME banjos contact:
info@omebanjos.com
Visit their web site at:
www.omebanjos.com
Or contact Tim at:
5picker@blue-grass.org