and Ackumpuckie Productions
Present...


Tim Custer John Larimer Kevin Custer Dean Shumaker
An Acoustic Bluegrass Band from Western Pennsylvania
Featuring...
Tim Custer-Banjo/Guitar/Vocals
John Larimer-Dobro/Guitar/Vocals
Kevin Custer-Acoustic UpRight Bass
Dean Shumaker-Mandolin/Guitar/Vocals

---

Jam Session was recorded in Digital Stereo
by Dan Bruner
DDD
Digitally Recorded, Mixed & Mastered
(no Dolby here!)


---
MP3 Download Old Home Place

MP3 Download Yes Sir that's My Baby

---
Real Jukebox Download
Fireball

---

The following file formats are .wav
Listen to John Larimer kick off "Fireball" on the Dobro.
Hear Dean Shumaker start the Monroe mandolin classic "Rawhide"
Click to get Tim Custer to fire up the banjo on "Sledd Ridin'"

---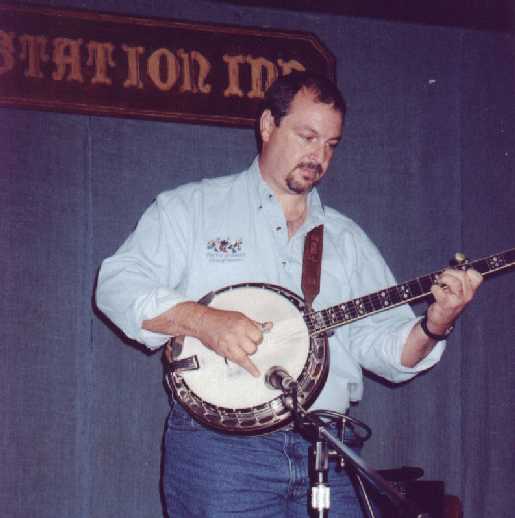 Congratulations to Tim Custer
Mid-Atlantic Banjo Champion in 2001 & 2002
2001-2000-1979-1977 Maryland State Banjo Champion !
5-Time Tri-State Banjo Champion
view article and photos



Photo at right is Tim performing on stage at the Station Inn
Nashville, TN

---
This site and its contents are Copyright © 2000,2001,2002,2003,2004,2005,2006,2007,2008,2009,2010,2011,2012,2013 by:
Tim Custer and Kevin Custer All Rights Reserved.
The phrase pickin@bluegrass tm is a trademark of pickin@bluegrass
Last updated 2013 Custer Brothers Enterprise (CBE)
Read the Disclaimer!